From Director of School Administration
Dear CMS Community,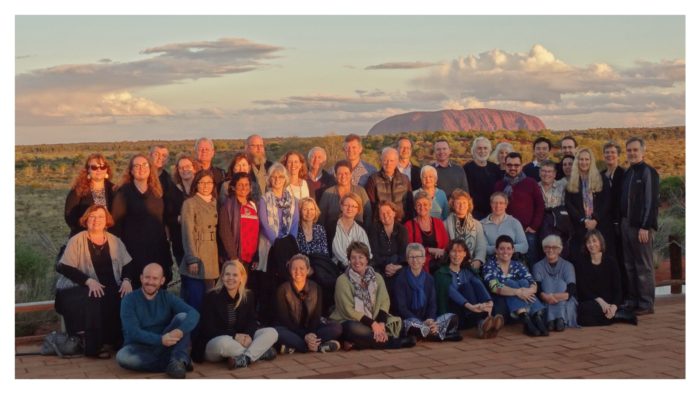 It was a privilege to be a part of the Montessori Independent Schools National Summit (31st August to 2nd September 2016). With 18 schools, 4 early childhood centres and one Independent School Northern Territory represented, the event was well attended.
Two days of intense brain storming and workshopping was facilitated by Steven Gould, futurist and lecturer at the University of the Sunshine Coast. The aim for the Summit was to collectively contribute to the future direction of Montessori education in Australia.  Gathering in the centre of Australia in a place where members of Montessori Australia had to make a concerted travel effort to attend, provided a unique retreat atmosphere for reflection, rejuvenation and creative flow. 'How do we progress, without our current assumptions getting in the way of exploring alternatives?' was the question posed as we set to work together to plan the future of Montessori education in Australia.
The speakers sought to provoke deeper thinking by highlighting the challenges faced as a sector and consisted mostly of Principals with a balance of financial expertise in the mix. Our Principal, Anthony Vandermolen, gave a captivating talk. While we are used to hearing Anthony's views at CMS, he deeply challenged Montessori leaders Australia wide with his provocation. We were challenged to consider how we maintain and protect our Montessori character while increasing knowledge of Montessori education in a fast paced technological age.
Three main objectives concluded are:
We, as part of an over arching Montessori organisation, have one voice
Public Relations must be enhanced to promote the philosophical perspective of Montessori education
Montessori teacher and leadership training must be reviewed and strategically developed
On writing this short summary for the CMS Bulletin and viewing the points to conclude two intense days of collaboration, I feel these concluded outcomes do not fully grasp or illustrate the path we paved together as a collaborating group of Montessori advocates. Then I stop and think further and would like to share……these three little points are so deeply understood and unanimously agreed upon by some of the biggest and most influential school leaders in Australia that together we can only go from strength to strength. If you are interested in hearing more about the Summit please see myself or Anthony who will be happy to share and discuss more detail of the vision.
Regards,
Áine Barker
Director School Administration